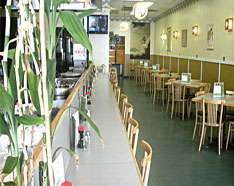 NEW BUSINESS HOURS:

Monday-Thursday:
Lunch 11:00am - 3:00pm
Dinner 4:30pm - 9:00pm
Friday-Saturday:
11:00am - 9:00pm
Sunday: Closed
120 South Peters Road
Knoxville, TN 37923





Welcome>>Faqs
Frequently Asked Questions
Do you use MSG?
The answer is simple: no and never!
How fast can we get our food?
Usually it takes 5-10 minutes for dine-in or take-out. During rush hour, it may take a few minutes longer.
Do you take credit cards or checks?
We take Visa, MasterCard, Discover, American Express, Debit cards, and official checks.
What is Miso soup?
The word "miso" means soybean in Japanese. Miso soup is a clear soup made of soy bean paste with a little green onion and sea weed.
What is Gyoza?
Gyoza means dumpling, made of pork and vegetables, steamed on grill, and served with home made Gyoza sauce. 6 pieces per order. 12 pieces as a big order.
What is Shrimp Sauce?
Shrimp sauce contains no shrimp. It's our house-made special sauce with 13 different kind of spices and ingredients. If you love Shonos, you will love this sauce.
What is Eddie Special?
Sliced chicken and beef and marinated with special sauce. It's mild and pleasently spicy.
What can I do if I am allergic to something?
We'd be glad to customize your food without extra charge. You can request the food to be prepared without oil, salt, soy sauce, sugar, mushroom, onion or whatever you don't like or allergic to.

I don't like rice. What can I do?
You also have the option of choosing double vegetables instead.
I don't like vegetables. What can I do?
You also have the option of choosing double rice instead.
I don't like salad, what can I do?
You may choose to have extra rice or vegetables instead, or to have a soup for exchange.