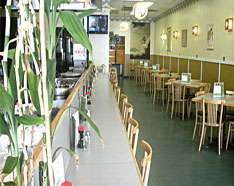 NEW BUSINESS HOURS:

Monday-Thursday:
Lunch 11:00am - 3:00pm
Dinner 4:30pm - 9:00pm
Friday-Saturday:
11:00am - 9:00pm
Sunday: Closed
120 South Peters Road
Knoxville, TN 37923





Welcome>>Reviews
Reviews
Awesome Food! Awesome Service
Awesome food! Awesome service! If you have ever been to and liked Hibachi Factory, run ... do not walk to Shonos! It is a tad pricier, but well worth it. They serve up a generous portion with their entrees. You can choose chicken, shrimp, steak, fish, scallops or veggie. Served with fried or white rice and veggies and a fantastic pour-over sauce, plus a salad .. I make two meals out of this. Also be sure to try the dumplings ... ooh la la! The place is small but cozy, tucked in the corner of a small strip shopping center. The manager is unfailingly polite and helpful. The Japanese cooks make the food a work of art. The menu is limited and they could have better operating hours ... open 11-2 and 5-9 Mon thru Sat only. But I make sure to get there at least once a week. Nothing fancy, just simply good!" Sauce:

I would highly recommend Shono's Restaurant. I have been dining there  frequently for several years. The food is always great, especially for the price. The service and staff are super friendly and always take great care of me. The Gyoza Dumplings are one of my must haves each time I go. 

If you are looking for a good "locally owned" place to dine in West Knoxville that is easy to access, fair priced, good selection, family oriented, great service and quality food, stop by Shono's Restaurant. You will be glad you did.

Jeff Jones

7/8/2011


What a wonderful surprise to come into Shono's!
Thank you so very much for the plate of gayoza we had today while we were celebrating my birthday! What a wonderful surprise to come into Shono's and find a table for us with the beautiful flowers that my son brought for me. An even better surprise was the delicious appetizer. When my son asked where I would like to go, I immediately said SHONO'S as we dine there quite often. My husband recently had heart surgery so I brought a take out order home for him. I was pleased to see that he ate every bite. Thank you so much for making my birthday so special. Lucinda D.
Nothing Fancy, Just Simply Good!
Shono's Japanese Grill is in a strip center behind Walgreen's at the corner of Peters Road and Kingston Pike. If someone had not called me and let me know about it, I would probably have missed it for years. This would have been a shame. This is a pleasant, unpretentious little place with a limited menu that serves tasty food at excellent prices. Right off the top, I need to let you know the night we ate with these folks, word had already spread. They were full and were also handing out a regular stream of carry outs. I make no guarantees about your ability to get in. I do know it will be worth it.

Basically, Shono's serves a selection of foods that can be prepared on a Japanese grill they have located directly behind a counter. This allows you to sit at the counter and watch the cook keep multiple orders flowing freely. I started with miso soup. It was made right. Good stock was blended with just enough miso (Japanese soy bean paste) to give it a great flavor. Shono's has one appetizer, but it is a good one. Dumplings, which are somewhere between Japanese guodz and the Chinese pot, stickers are cooked on grill and served bot with a good dipping sauce. The ground pork filling is lightly seasoned and just right. What amazed me is they made up each order of dumplings as they were needed. Is that fresh enough for you?

All entrees at Shono's are served with a small salad and good ginger dressing, vegetables and rice. Portions are generous. Prices are cheap. I had Eddie's special which is a fine combination of thinly sliced beef and chunks of chicken marinated in a spicy, slightly peppery sauce. They are then cooked on the grill with an assortment of vegetables. My wife Anne decided to go for less spicy, and it was a good decision. She had chicken and shrimp. The chicken and the shrimp had been marinated in a light teriyaki sauce before being grilled with the vegetables. They were good, big shrimp and nice pieces of chicken. The flavor was full and interesting. A special feature of Shono's is a short children's menu, which allows little tykes to eat the same sort of food in a smaller portion. Our almost 4-year-old guest was greatly impressed by a place that would serve her nice bite-sized pieces of chicken in a good gravy (that is her choice of words) with a lot of rice. She observed that it was all the things she likes best....... If you are looking for fancy, this not it. It is also not haute cuisine. However, it is good food, in good portions, pleasantly served. I guess you could say these are all the things I like best. Walter Lambert
For more reviews: